I've been eating a lot of leftovers of late. Most recipes aren't made for single people, so leftovers are plentiful at my house. When I cook something new, I try to put at least one portion in the freezer (unless freezing is obviously out of the question). If it's something I'm likely to make again, it's helpful to know how it will hold up in the freezer.
Usually I prepare my leftovers as expeditiously as possible by simply reheating them in the microwave. But sometimes "same old same old" just doesn't cut it and some sort of transformation is in order. I recently turned some of my
Tuscan-Inspired Baked Beans
into soup – it was easy and really tasty.
Beans and Greens Soup
2 cups chicken stock
1 ½ cups
Tuscan-Inspired Baked Beans
*
3 leaves of Dinosaur Kale, cut into ¼-inch slices
salt and pepper to taste
Combine the chicken stock with 1 cup of the beans in a medium saucepan and puree with a stick blender until smooth. Stir in remaining beans and bring to a simmer. Add the kale, cover and simmer 10 minutes. Season to taste and serve. Serves 2.
* You could substitute canned beans, but if you do you might want to add a little tomato, garlic, olive oil, and/or meat (bacon, ham, or pancetta) to the mix.
Dinosaur Kale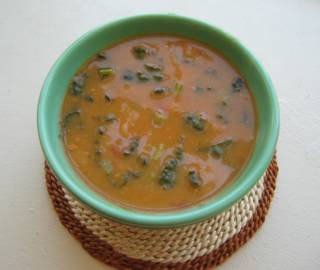 Beans and Greens Soup